About Charlie Harvey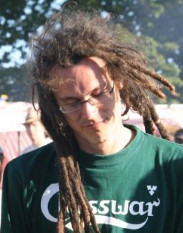 I'm Charlie Harvey from Oxford, UK. I'm interested in all things techie, especially free software and GNU/Linux. I'm also into punk rock, dub reggae, and good cider. I'm fairly involved with anarchist politics and direct action and media activism for an anarchist society.
Professional
Activism
These are some of the areas of activism I try to be involved with from time to time. I have various activist pages on this site.
Pals
Here are links to a few of my friends' websites